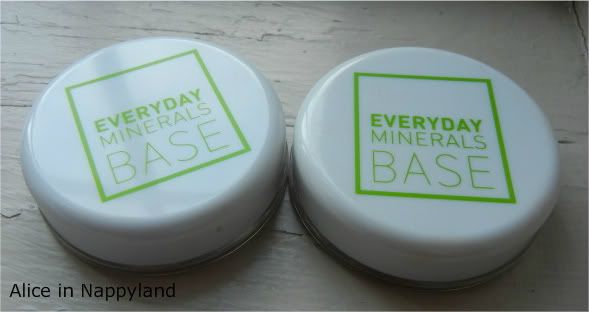 I hate wearing foundation. I never wore it with the exception of a stint in high school and after that I swore to never wear anything like it again--it was too heavy, rubbed off on everything I touched and would streak if I got remotely sweaty. My friend suggested mineral makeup as a possible substitution and I bought Bare Minerals, at the time the only people making mineral make up. And it was great! Until the container bust in my suitcase spilling powder over EVERYTHING.
I started getting interested in face make up again after I started wearing concealer regularly and I started noticing that there was a line under my eyes because my skin didn't "match" my concealer perfectly in winter or light would reflect differently off anywhere I put the concealer. Even though I adore my tinted moisturizer, it's a medium coverage and pricey which wouldn't make it my go to for everyday. For everyday wear I wanted something light, quick to apply and wouldn't get streaky when it fades.
So when I heard Everyday Minerals was doing a huge sale for Black Friday, I remembered how much I liked Bare Essentials and mineral make up and I snapped up their
Truffle Base in the Semi-Matte finish
and
Bronzed Tan Base in the Matte Finish
. Both are 4.8g for $12 when not on sale.
I'm not a huge fan of the packaging. It's really sleek looking on the outside and it's easy to spot the colors with the clear bottom as well figuring out how much you have left and the sifter cap is great for traveling because the likelihood of it exploding is close to nonexistent, but I'd like need more space on the top to get a brush in there more easily. Since there isn't a lot of space, getting the product out, even into the cap is a pain in the neck.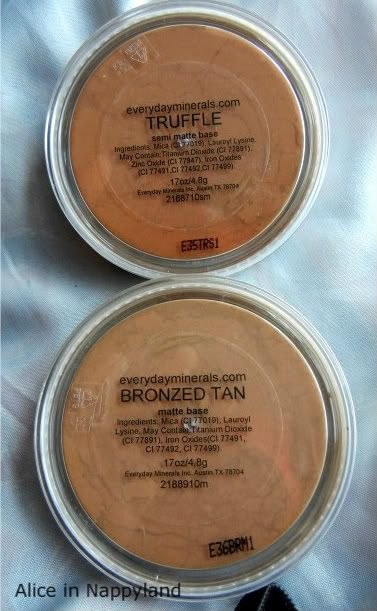 pictures taken with natural light
I got both finishes because I like matte finishes but I've found that SOME mattes make me look sickly because there is NO natural shine in my face (great if you're oily, not so great if you have combination skin like me). The semi-matte finish says it will "creates a hydrating soft dewy complexion with medium to full coverage and feels creamy to the touch. Suitable for all skin types." It's very natural, but a little too dewy for my personal tastes, my face seemed a little oily and I kept wanting to wipe my face with an oil blotting sheet/tissue. If you have dry skin, you might want to look into this finish. The matte finish "is beautifully matte with full coverage for combination skin. Achieve a perfect canvas with silk-like minerals. Evens out skin tones, light and flawless finish." This was actually my perfered finish between the two because I got a matte face (woop!) without looking sickly and I didn't really get oily through out the day.
Color selection wise, I'm not impressed. These are the darkest colors they have out now so if you're any darker than these, tough luck. Bronzed Tan alone is a too dark for my winter skin, which is paler than I usually am since I tan easily. For summer, I'm hoping Bronzed Tan (maybe with a hint of Truffle) will match my summer/spring skin color.Truffle is WAY too red for me to ever wear alone, I've been testing it as a blush/bronzer and it works ok if I layer it like there is no tomorrow. If you're using it as a blush/bronzer, I suggest a dense flat topped powder brush. I don't own one but I suspect that will make the application process easier since you'll have more product going on in controlled, concentrated manner.
While testing Bronzed Tan and Truffle out as a foundation, I tap some of each out into one of the lids and swirled my E.L.F. Kabuki brush (another black friday steal) into the powder to mix them up. I tap off the excess and apply in circular motions all over my face. I only need a little but you can build this up for something close to medium coverage if you keep repeating this pattern. It goes on really smoothly to the point if I don't see it on my brush I'm not really sure it's on my face. And after its been on for a bit, I tend to forget it's there which means it's doing it's job WONDERFULLY. On me it lasts about 6-8 hours depending on my level of activity and I've been wearing Bronzed Tan everyday for 3 weeks and it hasn't broken me out so yay!
IN A NUTSHELL
: This is a good mineral foundation/base that won't break the bank but their color selection and packaging leaves something to be desired.Will I buy it again? Nope, I'm not a fan of the mess that a mineral product makes and I think it takes longer for me to apply than a regular tinted moisturizer which doesn't make it super time saving in the morning.
Does the fact I write insanely long beauty reviews bother any you (This one is over 700 words)? One thing I've noticed is there aren't a lot of reviews from African-American women on the products I use and I'm hoping to give people interested in them as much information as possible. Would you prefer a jump so if you want to skip and get back to the hair stuff you have that option? Tell me in the comments!