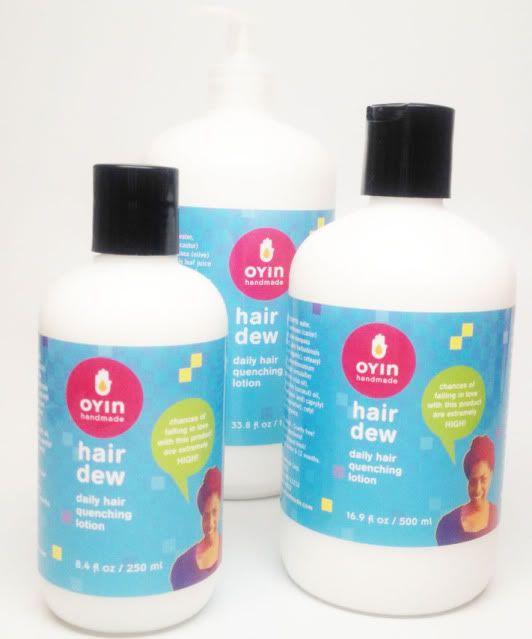 Advertised
: Looking for a product to wake up and moisturize your 'second day hair'? Looking for a way to make your hair pliable enough to re-style without a full rinse? Just want to refresh your coils and curls and give them a shot of moisture before sealing? This leave-in is your answer! Plays well with other Oyin leave-ins and stylers. Imagine if the old school 'oil moisturizers' of the past were made of things that are actually good for your hair! As always, mineral/paraffin/petroleum free and full of nourishing castor, olive, and coconut oils instead. We also combine with aloe vera to quench the thirstiest hair... And since it's glycerin-free it's appropriate for even the driest of climates. Give your hair a drink today!
Ingredients
:purified water, castor oil, olive oil, organic aloe vera gel, behentrimonium methosulfate (emulsifier), coconut oil, olive squalane, optiphen (preservative), cetyl alcohol, fragrance, and love!
Price
: $3.50 for 2oz, $12.00 for 8oz, $20.00 for 16.9 oz, $36.00 for 33oz
Review
: It feels like a really long time since I did a review of something that wasn't hiding in my product graveyard! I've been looking for a replacement for my much loved
Qhemet Biologics Burdock Root Cream
(QBBRC) that has consistently been a part of my routine since we found each other in 2009. I've decided to replace it not because it doesn't play nice with my hair anymore, but it's becoming really difficult to get. Seriously, the shop closed in December for a sale and HASN'T OPENED YET. It's
March.
-___-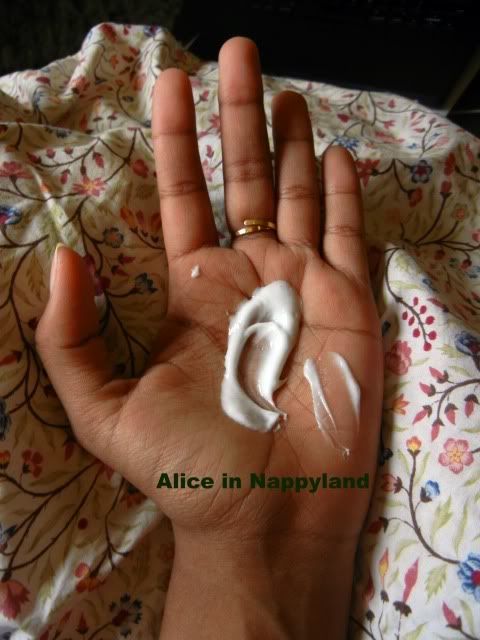 color and consistency natural light
According to the lovely ladies on the 4A forum of Naturally Curly, this is a great replacement for QBBRC but I was a little suspicious because it comes in a bottle and looks like lotion, which usually means it's not nearly as thick and moisturizing and I'll probably fly through it. And, as expected it wasn't as moisturizing as QBBRC, but it wasn't bad. This isn't a product I would reach for in winter, but since it's (finally) starting to get warmer, I can see this being more useful since I'll be washing/wetting my hair more to try to beat the heat.
Like the
Burnt Sugar Pomade
I tried earlier, it smells absolutely divine. It's not nearly as strong as the pomade, but the sweet, sugar cookie is still present and it doesn't linger, which is a little disappointing ironically. But I don't think it's fabulous smell will save it in the long run since the moisturizing properties on freshly washed hair left something to be desired.
The first time I tried it, I tested it with a wash and go and the results were "meh". Nothing super amazing but not terrible: soft, defined curls but drier than what I like and I'm used to. I did use a blow dryer with a diffuser attachment since I was heading out and I needed my hair dry NOW which may have something to do with why my hair felt drier than normal on Day One. And my hair continued to get drier as the days went on. Not impressed. And the wash and go barely made it to day 4 without getting limp, dry and frazzled.
I decided to put in some twists in on dry hair mid-week and see how it would hold up. After all, a wash and go in winter isn't really a fair way to test a product. Pretty much everything is stacked against it. And since the product was meant for "second day hair," I hoped I would get better results. I was a little suspicious since my hair in general doesn't take products applied dry well, but I was pleasantly surprised! My hair felt more moisturized than it did pre-twisting and I didn't need to use any additional oil while retwisting (remember Pink Oil moisturizer? This feels a little like it!). I think this would be a strong contender if I started with a well prepped canvas (initially well moisturized hair). When I get a hold of QBBRC* I'll update this result with information about how it worked on well moisturized hair as a refresher.
If you have looser curls this might be absolutely magically for you because it won't weigh your curls down and will pack a moisturizing punch closer to something you want and need. But I'm kinda surprised so many naturals (especially those who I know have thicker hair than me!) were/are head over heels for this product since it didn't seem to do anything awe inspiring. If you have any tips on how to use it, tell me in the comments because I'm really curious!
*If you're like me and desperate to get a hold of QBBRC, or any other your other favorites from Qhemet, Sage Naturaleuticals sometimes has them in stock. I managed to grab 2 jars of QBBRC and I already know I'm going on end up hoarding this product in the future. When that sale opens up (if it ever does) I'm getting 2 more jars because it's truly a solid, staple product that has yet to fail me.