On my
go to faces
post, I got a request to show how I turn regular foundation into tinted moisturizer and how I apply it. It's super easy and is a great way to stretch foundation that is expensive (great for those who can only find your shade in a department store) or for watering down foundation that is too heavy for you personal tastes or making something close to a BB Cream in your skin tone. I don't know about all of you, but August is one of the hotest months of the year for me and tinted moisturizer is a great way to get some coverage on days without the weight that comes with a full face of make up. So let's get this party started:
You will need
: sunblock, foundation, concealer and a bit of powder, I like translucent but you can use something with color if you so desire. For this mini tutorial I'm using Neutrogena's Ultra Sheer Dry Touch in SPF 70,
Revlon Colorstay foundation in toast
,
Josie Maran Argan Blended Concealer in Chestnut
and Palladio Rice Powder in translucent. For tools: your hands and a powder brush or sponge. For the record, you don't need to use exactly what I'm using here. Use what ya got!
On the back of your hand apply about 1/4 of a
teaspoon
of sunscreen. Why 1/4 of a teaspoon? Because you need 2 mg of sunblock per 2 cm of skin. If you're using less than that, you're not getting the SPF protection promised on the bottle! Next to that, put about a dime sized amount of foundation. You may need more later so keep the bottle open and nearby. I
deliberately
put too much foundation here, and you'll see why below.
Mix the sunblock and foundation together with your finger or the back of a brush. Which ever you prefer. At this point, look at the color. On the left, I have the foundation
not mixed
with sunblock and on the right it's mixed with sunblock. If you want a sheerer coverage, it should look like your foundation but a shade or two lighter. If you want something closer to a medium coverage you want something closer to your foundation color.
Apply using your fingers. I think it's silly to use a foundation brush for something that is basically glorified sunblock but if you don't like touching your face, use the brush or a make up sponge, whatever you perfer. I apply it like you would apply foundation: dot on your forehead, dot on your nose, a dot on your checks and a dot on your chin. Then blend.
Now for the rest of my face. Concealer goes on your dark circles or any other area of excessive darkness or redness not covered by your tinted moisturizer. For me, this goes on my dark circles and any zit I'm working with. You're welcome to skip this step if you have gorgeous, flaw free skin. Since this is a cream concealer, I apply it with (clean!) fingers and I "press" it into my skin instead of pulling thisaway and thattaway.
Powder to make sure everything stays in place (or as "in place" as it's gonna be with this heat...) and you won't get too oily later in the day. This is also good if your sunblock leaves you a little greasy like mine does. I use the ELF Powder brush and there will be a review on this and more of their brushes coming soon.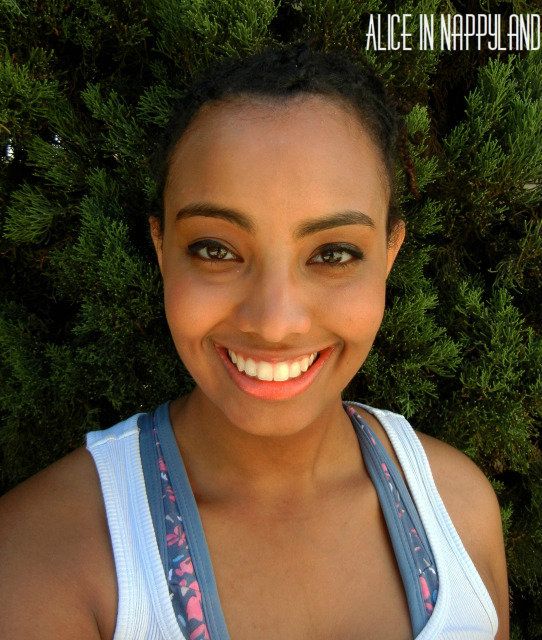 And I didn't blend my concealer out perfectly, opps
Ta da! All done! You can do the rest of your face or not, it's really up to you. I added a bit of that
Sila eyeliner
I hate but am determined to finish (I did NOT spend $20 to have it dry out on me!),
Wet n Wild Princess Bronzer
as a highlighter and a peach lipgloss to finish this off.