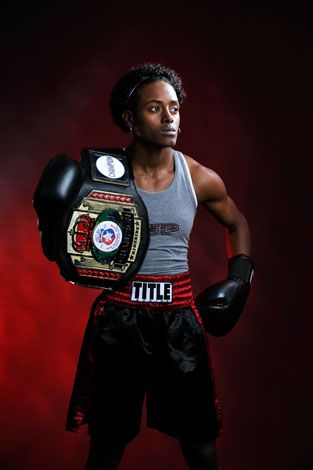 Last of the January athletes series! I'm not going to stop posting athletes with fly natural hair because (1) I haven't seen many spotlighted in our little virtual community period (2) I have mad respect for women (and men) with long natural hair who play sports. I've upped my exercise regime to 6 days a week and I'm at a point where I'm thinking of washing my hair every 4 days because I end up so sweaty. And lasty (3) I'm getting kind of sick of only posting models, singers and general artist types. We need more diversity! Bring me your techies! Your sprinters and your CEOs!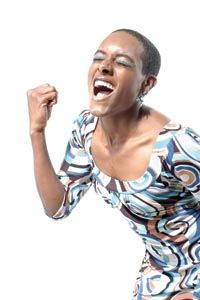 in her modeling days!
Back to Lauren Fisher before I end up rambling, Lauren Fisher is a boxer. A USA Olympic featherweight (119-126lb/54-57kg weight class) boxer. Like many female boxers, she didn't come to the sport directly. She was originally a point guard for Indiana University of Pennsylvania's women's basketball team but quit the team and school after a falling out with her coach.
She spiraled for a little bit, wandering around and crashing on people's couches when she ended up at trainer Rick Fanella's gym with the simple desire to "hit things." And the rest is history because Fanella saw something in her, despite the fact she started off on the wrong foot by throwing up in the ring during her first sparring session. Opps. In a year she started destroying the best in her weight class. Example, she beat Sacred Downing at the 2010 USA Boxing National Championships. This was Fisher's 14th fight in her entire career. Downing won the last
six
national titles. Not bad for a rookie.
Off to London for the 2012 Olympics. Because with her record you'd be hard pressed not to end up there. Bizarrely, the information on her kind of dispears after that. I keep finding "road to London" articles but nothing about her OR her fights while there. And her page as part of the US team's website gives me a 404 error. So, I'm assuming she did not make the team? And there isn't anything else on her after the Olympics...And there is a distinct lack of photos of her in
all the articles about the US Women's Boxing team.
It's bizarre, she gets mentioned in most of them but the just choose not to photograph her. Hmm...