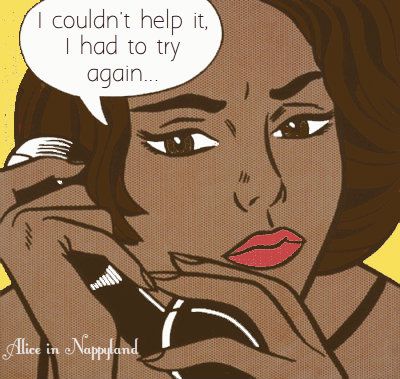 I think it's important, as a blogger and general good human being, to go back and say, "you know what, maybe this doesn't work as well as I thought" or "Hey! This is still ah-mah-zing!" Hence the creation of
Products...Revisited
. A chance to go back and share 4-5 previously reviewed products are (or are not) still in rotation to give you a better idea about what I'm still using and what has been banished to some dark back corner of my bathroom counter.
Dabur Vatika Oil (Original Review: May 2011)
I'm sorry, I just don't get the appeal of this. The way I see it, it's just really expensive coconut oil. I don't have a full or complete understanding of ayurveda so maybe it is doing something behind the scenes that I'm not aware of, but I got similar results using basic coconut oil that I can get a much better deal on.
Final Decision: Will not/have not repurchase.
Herbal Essences Hello Hydration Moisturizing Conditioner (Original Review: December 2009)
Still love this stuff. It's up there with my Aussie Moist. I even picked up a giant bottle of it when I saw it on sale during Black Friday ( oz for $7 woot!). I've been using this as a co-wash conditioner, rinse out conditioner and occasionally I've been using it as a base when I want to whip up my own protein free deep conditioner. I love multi use products!
Final Decision: Pretty darn close to Holy Grail Status
Wet n Wild Color Icon Brow and Eyeliner Pencils (Original Review: September 2012)
While I haven't really touched Bronze too much, I'm still completely in love with purple. It was the focal point of my Birthday Look! Next big sale they do, I'm thinking of picking up Turquoise even though I
really
do not need it in my life. It's hard to say no to so good when it's something when it's 0.59!
Final Decision: Love, but really don't Need
Cantu Shea Butter Leave In Conditioning Repair Cream (Original Review: February 2011)
This, despite many many MANY attempts, cannot and will not replace my beloved QBBRC, which is what I originally bought it for. I know they reformulated it sometime last year but I really don't want to be bothered with it anymore. It was just too thin to moisturize my hair, even when it was dry. I think I'm going to incorporate what's left into my Everything But The Kitchen Sink Deep Conditioner.
Final Decision: Pass