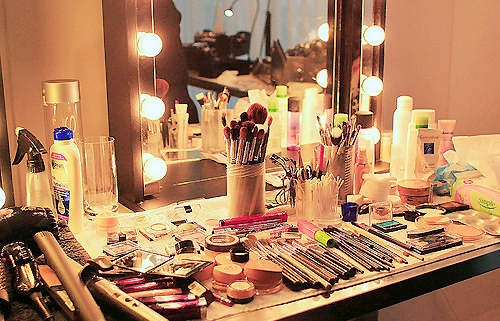 Not my stash!
It seems crazy that someone who isn't a collector or product junkie (anymore) wants to do the 10 Pan and/or Bottle Challenge, basically a no buy until you hit the pan o
r bottom of a bottle on 10 products. But as weird and oxymoronic as it sounds, I feel weird owning a lot of ~stuff~ despite the fact I'm a really great budget-er and l
ove experimenting with new products and techniques. Having more than the (bare) essentials just trips me out. I know it's weird. I can't explain it. Blame it on the elves
.
Another reason I want to do this, I'd like to get reacquainted with products I pushed aside and get a better sense of what I actually use and abuse and HOW I use and abuse it. This will help me make better purchasing decisions in the future because I won't be able to justify impulse buys I "might" use AND I'll figure out exactly I want out of a product. I hope.
Does this mean reviews are gonna stop completely? Nope! I've got a good amount of stuff in the Testing Phase and I've got drafts of reviews I need to finish so I'll be sharing those with you as I get them done!
I'll report back to you all when I get 5 pans/bottles with my feelings on the products. And then one last time when I completely finish this with my feelings/opinions on challenge as a whole.
Da Rules
As of January 22, 2013 no new products. Period. No exceptions. Unless a major, horrifying THING happens but we'll cross that bridge when get there.
I can purchase products as gifts for other people. To many birthdays in the coming months to make this not a thing.
3 Proper/Deluxe Sized™ samples=1 full sized product. I got lots of holiday sample kits for Christmas/my Birthday and I want those to be a part of this body count.
If a product was declared a Holy Grail and Will Never Try Something New™ Product on this site prior to me announcing this challenge I'm allowed to repurchase it.
Have you done something like this? Are you up for doing it again with me? Tell me in the comments!