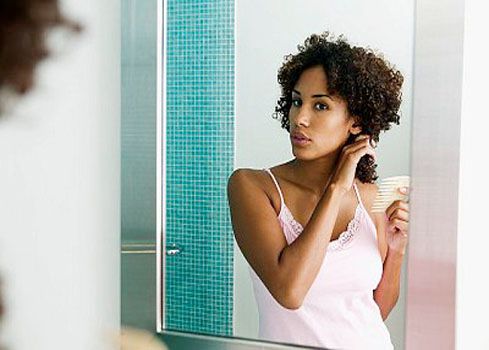 After posting the
Ojon Restorative Hair Treatment
review, so many of you said that I absolutely
must
try pre-pooing. That is was an essential part of your regimen and you were convinced that I could find an oil in my stash that worked as well, if not better than this super expensive product.
Personally, I've never been a fan of pre-pooing. I never "got it" and it always felt like I was wasting product because it would be washed down the drain (ironically: I don't have this problem with deep conditioner. Which also sits in your hair for 30 minutes and then gets washed down the drain).
First off, what is a pre-poo? A pre-poo is literally a "pre-shampoo" treatment. It's supposed to prepare your hair for the abuse it's about to get in the washing process (especially if you, like me, use a sulfate shampoo). Oils are really popular for this, as well as humectants like honey. Some people even use conditioner or protein treatments.
For me, pre-pooing helped me detangle my hair in the shower with
just water.
Plain ol' water. My knots literally started melting as soon as the water hit my head and I started running my fingers through it. Why? No idea. But I don't plan on questioning a good thing! I also have needed to deep condition my hair less. Which is a big perk in my book because I've never been a fan of it.
I tried the following oils straight out of their respective bottles:
Coconut Oil
Sweet Almond Oil
Olive Oil
BB Oil It Up 10 in One (basically an oil cocktail of wow-I-can't-pronounce-half-of-this)
Of the bunch, coconut and the (surprise!) BB Oil were my favorites. I found that they really melted tangles and left my hair feeling super soft. Olive oil is a quick second, my only complaint was I hate the smell. I don't know why the smell of olive oil bothers me so much, but it does. Lastly, sweet almond oil. My hair just didn't care for this. It took a lot of oil to get my hair sufficiently coated and it didn't really help with detangling as much as the others.
Did any of them compare to Ojon's? None of them out performed Ojon's Restorative Treatment, but the difference was so slight I don't think investing in such an expensive product is worth it. If you really want to try it but it's outside of your budget, I suggest trying to get your hands on some palm oil, the first ingredient listed on the jar. Much cheaper (though shipping might be a pain) and will probably work exactly the same way!
Do you pre-poo? What are some of your favorite products? Do you create your own hair oil cocktails? Tell me in the comments.